Professional Profile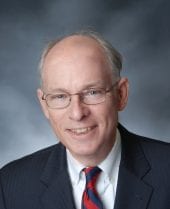 A partner since 1994, Michael Roy first joined Hobbs Straus upon graduation from law school in 1985. After leaving for a brief time to practice commercial litigation with a national law firm, he returned to Hobbs Straus in 1992. Since then, he has concentrated in the areas of litigation, gaming, administrative law, employment, and organizational issues. His interest in Indian law was sparked at Dartmouth College, where he received his undergraduate degree in anthropology and Native American studies.
Mike successfully argued Reservation Telephone Cooperative v. Three Affiliated Tribes of the Fort Berthold Reservation, 76 F.3d 181 (8th Cir. 1996), which required a utility company challenging a tribal tax to exhaust tribal remedies. He also helped write several Supreme Court briefs, including Seminole Tribe of Florida v. State of Florida, 517 U.S. 44 (1996). He has represented tribes in federal and tribal courts in suits involving land claims, employment and labor, tribal taxes, and gaming. In addition, he has appeared before numerous federal agencies.
With extensive experience in the field of Indian gaming, Mike helps tribes comply with the federal laws regulating Indian gaming. He also provides counsel in tribal regulation of Indian gaming and pursuing economic development through gaming. Mike represents clients before the National Indian Gaming Commission (NIGC) and the Bureau of Indian Affairs Office of Indian Gaming in various areas including approval of management contracts, tribal-state compacts and other gaming agreements, as well as approval of off-reservation trust acquisitions for gaming. He also represents clients in the areas of gaming ordinance approval and rule-makings.
Mike negotiates management, development, and other gaming-related agreements. He was part of the team that represented the Mohegan Tribe of Connecticut in its successful 1995 effort to establish a major casino through the first issuance of commercial bonds to finance construction of an Indian casino.
Mike and his wife have three sons who keep them very busy. Additionally, Mike is a big fan of Irish and Celtic music, as well as folk, Latin jazz, and rockabilly.
Of Note
First NIGC opinion approving a Class II gaming device depicting spinning reels in the Tab Force opinion (1998)
Assisted in first successful issuance of commercial bonds to finance construction of an Indian casino (1995)
Professional Organizations
District of Columbia Bar Association
Federal Bar Association
Education
Boston College Law School, J.D., 1985
Dartmouth College, B.A. (with honors), 1980
Bar Admissions
District of Columbia
U.S. Supreme Court
U.S. Court of Appeals, 8th Circuit and 10th Circuit
Numerous Federal District Courts
Practice Concentration: