Professional Profile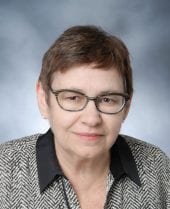 Karen J. Funk
Senior Government Relations Advisor
Karen Funk joined Hobbs Straus as a Senior Government Relations Advisor in 1987, following employment with Senator James Abourezk, then Representative Tom Daschle, and the National Congress of American Indians. She worked extensively for Daschle on what became the Indian Alcohol and Substance Abuse Prevention and Treatment Act (P.L. 99-570) and for NCAI on what became the Native American Graves Protection and Repatriation Act (P.L. 101-185).
On behalf of the Firm's tribal clients, Karen monitors, reviews, analyzes and writes about legislation, and provides lobbying on legislative and appropriations issues. She has extensive experience in the appropriations process on issues including education, health, child welfare, and historic preservation issues. Karen represented the National Indian Education Association and assisted on the reauthorization of the Elementary and Secondary Education Act of 1994, the Vocational Education Act, and the Educational Research and Development Act. Working with United Tribes Technical College, the Tribal Colleges and Universities Act was amended to include a new title specific to UTTC and Navajo Technical College (P.L. 110-315).
Karen has worked on a number of social service issues for tribes and tribal organizations, including efforts on the 1996 Welfare Reform Act (P.L. 104-193), which resulted in the doubling of tribal child care monies and authorizing for the first time tribal assumption of the federal Child Support Enforcement and the Temporary Assistance for Needy Families programs. Most recently she worked on legislation that expanded tribal opportunities and tripled funding for tribes under the Promoting Safe and Stable Families Act (P.L. 109-288) and on legislation which authorizes, for the first time, tribal administration of the federal entitlement program for foster care and adoption assistance (P.L. 110-351).