Professional Profile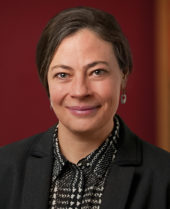 Jessica M. Wiles
Of Counsel
Jessie Wiles began her legal career as an associate attorney with Hobbs Straus in 2010, after graduating from Lewis and Clark Law School with a Certificate in Environmental and Natural Resources Law. In law school she served as president of the Native American Law Student Association (NALSA) and participated in the school's summer Indian Law Program.
In 2013, Jessie began work as an Attorney-Advisory for the Department of Interior, Office of the Solicitor in Billings, Montana. At the Solicitor's Office, Jessie advised the Bureau of Land Management (BLM) and other client agencies on topics including, but not limited to, grazing, oil and gas, mineral title and trespass, torts, administrative law, and water law. She also represented BLM in litigation before relevant administrative boards, including the Interior Board of Land Appeals.
Upon moving to Helena, Montana, in 2016, Jessie worked as a Special Assistant Attorney General for the Montana Department of Natural Resources and Conservation (DNRC) providing legal advice and representation to the DNRC Trust Land Management Division on a wide variety of issues including natural gas royalties, wind and solar contracting, public access, and state land leasing.
In 2018, Jessie started a solo practice in Helena focusing on environmental, natural resources, and water law. She is proud to be a former 2019 Montana Legal Services, Rural Incubator Project for Lawyers (RIPL) Fellow, a program designed to support practices that increase access to justice in rural and underserved communities in Montana.
Jessie reconnected with Hobbs Straus as a contract attorney in 2019 and joined the firm as of an counsel attorney in 2023. She proudly hails from Lander, Wyoming. In her spare time, she enjoys getting outside to adventure with her husband and two small children.
Selected Publications
Jessica M. Wiles, Montana's State School Trust Lands, Public Lands and Resources Law Review: Volume 38, 2017.

Jessica M. Wiles, Have American Indians Been Written Out Of The Religious Freedom Restoration Act?, Montana Law Review: Summer, 2010.

Education
Juris Doctorate, Cum Laude, Lewis and Clark Law School, Environmental and Natural Resources Law Certificate (2010).
Bachelor of Science, Recreation Resource Management, University of Montana, College of Forestry and Conservation (2001).
Bar Admissions
Montana State Bar
Montana First Judicial District Bar
Oregon State Bar (currently inactive)
Wind River Tribal Court