Professional Profile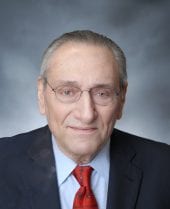 Jerry Straus has worked in Washington representing Indian Tribes for more than 50 years. In 1963, after serving two years with the Department of Justice, he was hired by Wilkinson, Cragun and Barker, one of the few firms that practiced Indian law at that time. In 1982 he joined Charlie Hobbs in and Bobo Dean in co-founding Hobbs, Straus. In 2012 he was named Lawyer of the Year in Native American Law by Best Lawyers. He received a Lifetime Achievement Award from the D.C. chapter of the Native American Bar Association in 2017.
Jerry's accomplishments include leading the successful legislative effort to have Congress return the 48,000-acre sacred Blue Lake lands to the Taos Pueblo of New Mexico in 1970 — the first large-scale action by Congress to restore ownership of tribal land taken by the United States to a tribe. In 1984 Jerry had a similar assignment involving the legislative restoration of the 24,000-acre Santa Cruz Spring Tract to the Pueblo de Cochiti of New Mexico. He then helped that pueblo secure a federal law that prevented an energy company's desecration of a natural religious shrine that was sacred to Cochiti and other pueblos in New Mexico.
Jerry assisted the Seminole Tribe of Florida in negotiating a landmark water rights compact with the state in 1987, which was the first recognition of Winters Doctrine rights in an Eastern state. He then worked to help the Tribe secure necessary legislative approval. This led to assisting the Seminoles in challenging the two largest corporate landowners in the state whose activities threatened to flood tribal lands and degrade water quality. In 1999, he directed the Firm's legislative efforts to secure congressional approval of a $32 million award to the Menominee Tribe of Wisconsin for damages suffered from the termination of its federal trust status in 1961. In recent years he has represented the Lytton Rancheria in its continuing efforts to resist proposed legislation that would curtail that tribe's rights under the Indian Gaming Regulatory Act (IGRA) and in having Congress take land into trust for the Tribe in Sonoma County, California.
Much of Jerry's work in recent years has focused on protecting the rights of tribes conducting high-stakes gaming under the IGRA and helping them get financing for the expansion of their gaming operations. In 1988, he provided a legal opinion that upheld the right of the Seminole Tribe to operate electronic Class II games under the IGRA and spent many years assisting that tribe and other tribes in their efforts to protect and validate these games. He represented the Mohegan Tribe of Connecticut in its successful 1995 effort to obtain federal recognition as a tribe, have a gaming compact with the state and establish a major casino through the first issuance of commercial bonds to finance construction of an Indian casino. In 2007, he was lead counsel in the negotiation of a gaming compact under the IGRA between the Seminole Tribe and the State of Florida and continued to represent that tribe in its successful effort to obtain a successor compact in 2010. He remains a key participant in joint tribal efforts to oppose federal legislation and regulations curtailing Indian gaming rights.
When not at work, Jerry enjoys traveling, reading, and games of chess and Scrabble, often played at his beach house in Chincoteague, Virginia.
Of Note
First successful large-scale restoration of historic lands to an Indian tribe (1970)
First legal opinion on electronically assisted Class II gaming devices (1988)
First successful issuance of commercial bonds to finance construction of an Indian casino (1995)
First recognition of federal water rights for an Eastern Tribe
First gaming compact with the State of Florida (2007)
Education
U.S. Attorney General's Honors Program
Columbia University Law School, LL.B., 1961
Columbia University, B.A., 1958
Bar Admissions
District of Columbia
Supreme Court of the United States
Court of Appeals for the D.C. Circuit
Court of Appeals for the Federal Circuit
Court of Appeals for the Ninth Circuit
Court of Appeals for the Eighth Circuit
Court of Appeals for the Fifth Circuit
Practice Concentration: