Professional Profile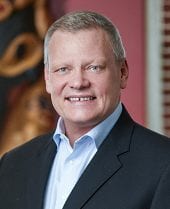 Geoffrey D. Strommer
Partner
Geoff Strommer joined Hobbs Straus in 1992 and is the managing partner of the Portland, Oregon office.  Geoff works with tribes on a wide range of issues, primarily self-determination and self-governance.  He is dedicated to working with tribal clients to help them develop stable and strong tribal governments that are able to deliver a range of high-quality services to tribal members.
Geoff is nationally recognized for his knowledge of and experience working with the Indian Self-Determination and Education Assistance Act (ISDEAA).  An active participant in the ISDEAA's developments and implementation since 1992, Geoff worked on efforts to draft and lobby for amendments to the ISDEAA.  He was involved with the development of regulations to implement Titles IV and V of the Act as well as for the Indian Reservation Roads program.  His work under the ISDEAA also includes negotiating contracts, compacts, and funding agreements with the Bureau of Indian Affairs, the Indian Health Service, and other federal agencies, including the first funding agreement with the U.S. Fish and Wildlife Service (2003).
Over the years, Geoff has also worked with a number of our tribal clients to interpret and revise constitutions, bylaws and ordinances.  In addition, he has significant experience assisting our tribal clients with acquiring and placing land into trust, and was involved in the first-ever transfer of land to a tribe under the ISDEAA and the Base Realignment and Closure Act.
For decades Geoff has successfully litigated a number of ISDEAA-related disputes in administrative forums and federal court.  He has represented a number of the Firm's tribal clients as they have pursued Contract Support Cost (CSC) claims against the Indian Health Service and the Bureau of Indian Affairs.  The CSC cases litigated by attorneys at Hobbs Straus to date have established important legal precedents, and resulted in negotiating settlements with the Government that total over $150 million dollars for the Firm's tribal clients.  In 2023, in the case of Northern Arapaho Tribe v. Becerra, et al., No. 21-8046, (10th Cir. 2023), Geoff served as lead counsel in a case in which the court agreed that IHS must pay the Tribe CSC on third-party revenues, such as Medicare, Medicaid, and private insurance payments, generated by the Tribe.  In 2022 the Ninth Circuit Court of Appeals rejected a similar IHS petition for rehearing in San Carlos Apache Tribe vs. Becerra, 53 F.4th 1236 (9th Cir. 2022).  Because of a previous contrary ruling by the D.C. Circuit in Swinomish Indian Tribal Cmty. v. Becerra, 993 F.3d 917 (D.C. Cir. 2021), the federal appeals courts remain divided on this issue.  Given this split in the federal courts of appeals and the amount of federal funds at stake, these cases might ultimately be decided by the U.S. Supreme Court.
Geoff was lead counsel in the two cases that established the right of tribal contractors to enter into fully-funded facility leases under section 105(l) of the ISDEAA: Maniilaq Association v. Burwell, 72 F. Supp. 3d 227 (D.D.C. 2014), and Maniilaq Association v. Burwell, No. 1:15-cv-00152, 2016 WL 1118256 (D.D.C. Mar. 22, 2016) (Maniilaq II).  The 2016 court decision in Maniilaq II confirmed that tribal contactors are entitled to fully funded section 105(l) leases for facilities that they use to carry out responsibilities under ISDEAA agreements.  Since the Maniilaq decisions were issued Geoff has assisted dozens of tribes and tribal organizations negotiate numerous fully funded leases with IHS and BIA, and he has worked with lenders and capital finance professionals on issues related to the valuation of these leases as part of loans and other financing to tribes and tribal organizations for facility construction loans.
In December 2015, Geoff argued before the U.S. Supreme Court on behalf of the Menominee Indian Tribe of Wisconsin in a case against the United States and other parties seeking to recover contract support costs based on equitable tolling of the six-year statute of limitations under the Contract Disputes Act as incorporated by the Indian Self-Determination and Education Assistance Act.  Menominee Indian Tribe of Wisconsin v. United States, 136 S. Ct. 750 (2016).
Geoff has also been very involved in advising tribal clients on a broad range of matters related to the implementation of the provisions of the reauthorized Indian Health Care Improvement Act (IHCIA) enacted as part of the Patient Protection and Affordable Care Act (ACA).  In 2012, he served as lead counsel for the National Indian Health Board (NIHB) and close to 450 tribes that joined the NIHB in an amicus brief filed in the United States Supreme Court in support of the U.S. government's position that the ACA, and by extension the reauthorized IHCIA provisions in the ACA, was lawfully enacted.  National Federation of Independent Business, et al. v. Sebelius, et al., 132 S.Ct. 2566 (2012).  In a subsequent ACA appeal, Geoff served as lead counsel on behalf of more than 470 tribes and tribal organizations in an amicus brief filed in the U.S. Supreme Court in a case challenging the constitutionality of the individual mandate provision of the ACA at both the appellate and Supreme Court levels.  California v. Texas, No. 19-840.  The amicus briefs focused on the separate legislative history and substantive purpose of the IHCIA and other important Indian-specific provisions of the ACA.
Geoff has also served as an expert on behalf of a tribe involved in litigation against the Bureau of Indian Affairs regarding a complex environmental liability issue.  Geoff's expertise relied on his 30 years' of experience related to federal Indian policy and focused on the BIA's trust responsibility and the self-determination policy in the ISDEAA.
Currently, Geoff serves as co-lead counsel for a number of the firm's tribal clients in the national MDL against manufacturers and distributors of prescription opioid drugs for their role in causing the opioid crisis. In re: National Prescription Opiate Litigation, No. 17-md-02804-DAP (N.D. OH).  Geoff serves on the Tribal Leadership Committee appointed to represent tribal interests in the opioid litigation.  Geoff was also lead counsel and coordinator of an amicus brief joined by 448 tribes across the country, which was requested by Judge Polster in response to the defendants' motion to dismiss tribal claims for opioid-related damages.  The amicus brief highlighted the unique standing of tribes in the litigation and the devastating impacts of the opioid crisis on tribal communities and governments.
Geoff is also currently the lead counsel for a number of our tribal clients involved in the national multidistrict litigation against the e-cigarette maker, JUUL, for the company's deceptive marketing scheme that has targeted Native Americans and costs tribes' significant resources to combat vaping and the damages it causes.  He also serves as the Chairman of the multidistrict litigation Tribal Sub-Committee, advocating for tribal interests in this litigation.
Finally, Geoff has, over the years filed a number of amicus briefs on behalf of Tribes and tribal organizations in important Indian cases pending in federal Courts of Appeal and the United States Supreme Court.  Most recently, Geoff was the Counsel of Record for the American Bar Association's amicus brief that was filed on August 18, 2022 in the Haaland, et al. v. Brackeen, et al., No. 21-376, the first time ever that the ABA filed an amicus brief supporting a tribal position in a United States Supreme Court case. 
In 1997, Geoff was adjunct professor of law at Northwestern School of Law, Lewis & Clark College, where he co-taught a federal Indian law course.  From 2000-2001, he was an instructor in the Department of Health and Human Services Executive Leadership Development Program, where he taught a negotiation-skills course.
For a number of years, Geoff has served as a member of and as Chairman for the Advisory Committee for the National Museum of the American Indian.
Geoff was recognized for professional excellence in the 2023 edition of The Best Lawyers in America for Native American Law.
Geoff is a veteran and served an active tour of duty in the United States Marine Corps.  He grew up in Geneva, Switzerland, and enjoys traveling the world with his family.  He was an avid mountain climber for many years and climbed a number of peaks in the U.S. and abroad.
Professional Organizations
Chairman, Executive Committee, Oregon State Bar Indian Law Section (1999)
The Federal Bar Association
The American Bar Association
Various Positions, Native American Concerns Committee, ABA Section of Civil Rights and Social Justice
- Co-Chair, 2023-2024
Trustee, Board of Trustees, National Museum of the American Indian, 2024-2027

Education
Georgetown University Law Center, J.D., 1990
University of California, Berkeley, B.A. (with distinction), 1986
Solano Community College, A.A. (with honors), 1984
Selected Publications
LAW REVIEW ARTICLES
• Geoffrey D. Strommer, Tribal Self-Determination and Self-Governance in the 1990's: A Primer, The Arrow: State Bar of Arizona Indian Law Section (1997)
• Geoffrey D. Strommer & Craig Jacobson, Indian Tribes and the Base Realignment and Closure Act: Recommendations for Future Trust Land Acquisitions, 75 North Dakota Law Review 509 (1999)
• Geoffrey D. Strommer & Stephen D. Osborne, "Indian Country" and the Nature and Scope of Tribal Self-Government in Alaska, 22 Alaska Law Review 1 (June 2005)
• Geoffrey D. Strommer & Stephen D. Osborne, The History, Status, and Future of Tribal Self-Governance Under the Indian Self-Determination and Education Assistance Act, 39 American Indian Law Review 1-75 (2015)
• Geoffrey D. Strommer, Stephen D. Osborne, & Craig A. Jacobson, Placing Land Into Trust in Alaska: Issues and Opportunities, forthcoming in the American Indian Law Journal (2015)
• Geoffrey D. Strommer, Starla K. Roels, & Caroline P. Mayhew, Tribal Sovereign Authority and Self-Regulation of Health Care Services: The Legal Framework and the Swinomish Tribe's Dental Health Program, 21 J. Health Care L. & Pol'y 115 (2018).


Of Note
CASES OF NOTE
St. Regis Mohawk Tribe, DAB 1808 (2002) (H.H.S. Jan. 17, 2002)
Appeals of Seldovia Village Tribe, Cont.Cas.Fed. (CCH) P 90834 (2003)
Runyon ex rel. B.R. v. Association of Village Council Presidents¸ 84 P.3d 437 (Alaska 2004)
Susanville Indian Rancheria v. Leavitt, No. 2:07-CV-259-GEB-DAD, 2007 WL 662197 (E.D. Cal. Feb. 28, 2007)
Susanville Indian Rancheria v. Leavitt, 2:07-CV-259-GEB-DAD, 2008 WL 58951 (E.D. Cal. Jan. 3, 2008)
Tejesova v. Bone, 2:06-CV-22, 2008 WL 2074077 (W.D.N.C. May 14, 2008)
Pyramid Lake Paiute Tribe v. Burwell, 70 F.Supp.3d 534 (D.D.C. 2014)
Maniilaq Association v. Burwell, 72 F. Supp. 3d 227 (D.D.C. 2014)
Pyramid Lake Paiute Tribe v. Burwell, 1:13-CV-01771 (CRC), 2015 WL 13691433 (D.D.C. Jan. 16, 2015)
Alto v. Jewell, 661 F. App'x 502 (9th Cir. 2016)
Confederated Tribes of Grand Ronde Community of Oregon v. Jewell, 830 F.3d 552 (D.C. Cir. 2016)
Menominee Indian Tribe v. United States, 577 U.S. 250, 136 S. Ct. 750, 193 L. Ed. 2d 652 (2016)
Maniilaq Association v. Burwell, 170 F. Supp. 3d 243 (D.D.C. 2016)

SUPREME COURT AMICUS BRIEFS
Cherokee Nation of Okla. v. Leavitt, Nos. 02-1472, 03-853, 6/18/2004
Wagnon v. Prairie Band Potawatomi Nation, No. 04-631, 7/14/2005
Nat'l Fed'n of Indep. Bus. v. Sebelius; HHS v. Florida; Florida v. HHS, Nos. 11-393, 11-398, 11-400, 1/27/2012
Dollar Gen. Corp. v. Miss. Band of Choctaw Indians, No. 13-1496, 10/22/2015
Soaring Eagle Casino and Resort v. NLRB, No. 15-1034, 3/17/2016
Little River Band of Ottawa Indians Tribal Gov't v. NLRB, No. 15-1024, 3/17/2016
California v. Texas; Texas v. California, No. 19-840, 19-1019, 5/13/2020
Haaland v. Brackeen, Nos. 21-376, 21-377, 21-378, 21-380, 8/18/2022

SAMPLE LIST OF PAST PRESENTATIONS AND SPEAKING ENGAGEMENTS
NIHB Consumer Conference: CSC (Sept. 2009)
Gathering Wisdom IV Panel: U.S. Self-Governance Experience (May 2011)
2015 Indian Law Conference – Federal Bar Association: The Indian Self-Determination Act—Impacts and Challenges (April 2015)
Center for Native and Pacific Health Disparities Research He Huliau: The History, Success, And Future Trajectory Of Tribal Self-Governance Under The ISDEAA (Oct. 2016) Hawai'i
NIHB (Sept. 18)
Tribal Sovereign Authority and Self-Regulation of Health Care Services
Tribal Self Regulation of Health Care: The Swinomish Tribe's Dental Health Program
Tribal In-House Counsel Association - 15th Annual ILPC & TICA Indigenous Law Conference (wildapricot.org) Tribal self-regulation of healthcare (Nov. 2018)
2019 Tribal Self-Governance Consultation Conference: Legislation Updates and Priorities (April 2019)
NAFOA 37th Annual Conference: Preparing for the Next Government Shutdown (April 2019)
2021 Tribal Self-Governance Conference: Negotiating Changes to DOI Self-Governance Agreements (Sept. 2021)
2021 National Tribal Health Conference: Virtual Meeting Details (pathable.com) (Oct. 2021)
TICA 2021 Self-Governance Panel – Turtle Talk (Nov. 2021)
2021 Indigenous Law Conference: Shifting the Balance of Power: Self Governance and Consultation (Nov. 2021)
Expansion of Tribal Self-Governance Authority to Select Department of Health and Human Services' Programs - Tribal Self-Governance (tribalselfgov.org) (Interview re draft legislation proposal and prior efforts to expand self-governance)
2022 NIHB 50th Anniversary National Tribal Health Conference (Sep. 2022) (Expanding Tribal Self-Governance at The Department of Health and Human Services: Legislative Strategy and Next Steps) and (Opioids Litigation, Settlement Issues, and Tribal Participation)
2022 NCAI 79th Annual Convention and Marketplace: Relocation Due to Climate Change(Nov. 2022)
2022 Federal Bar Association D.C. Indian Law Conference: Climate Change (Nov. 2022)


Bar Admissions
TRIBAL COURTS
Southern California Intertribal Bar Association
Hopi Tribal Court
Quapaw Tribal Court

FEDERAL COURTS
Supreme Court of the United States
United States District Court – District of Arizona
United States Court of Appeals for the Ninth Circuit
United States District Court – District of Oregon
United States Court of Appeals for the Federal Circuit
United States Court of Federal Claims
United States Court of Appeals for the Tenth Circuit
United States Court of Appeals for the D.C. Circuit
United States District Court – District of Alaska
United States District Court – Western District of Washington

STATE COURTS
State of Arizona Supreme Court
State of Oregon Supreme Court
State of Alaska Supreme Court
State of Washington, Supreme Court
Practice Concentration:
Tribal Affairs
Self-Determination & Self-Governance
Programs & Services
Economic Development
Alaska Native Issues
Natural Resources
Tribal Counseling & Advocacy