Professional Profile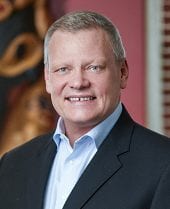 Geoffrey D. Strommer
Partner
Geoff Strommer joined Hobbs Straus in 1992 and is managing partner of the office in Portland, Oregon. His involvement in Indian law grew from interests in constitutional issues and American history. Geoff works with tribes on a wide range of issues, primarily self-determination and self-governance. He is dedicated to working with tribal clients to help them develop stable and strong tribal governments that are able to deliver a range of high quality services to tribal members.
Geoff is nationally recognized for his knowledge of and experience working with the Indian Self-Determination and Education Assistance Act (ISDEAA). An active participant in the ISDEAA's developments and implementation since 1992, Geoff worked on efforts to draft and lobby for amendments to various titles of the ISDEAA. He was involved with the development of regulations to implement Titles IV and V of the Act as well as for the Indian Reservation Roads program. His work under the ISDEAA also includes negotiating contracts, compacts, and funding agreements with the Bureau of Indian Affairs, the Indian Health Service, and other federal agencies, including the first funding agreement with the U.S. Fish and Wildlife Service (2003).
Geoff has successfully litigated a number of ISDEAA-related disputes in administrative forums and federal court. He has represented a number of the Firm's tribal clients as they have pursued Contract Support Cost (CSC) claims against the Indian Health Service and the Bureau of Indian Affairs. The CSC cases litigated by attorneys at Hobbs Straus have established important legal precedents, and in recent years he has been involved in negotiating settlements with the Government that total over one hundred and fifty million dollars for the Firm's tribal clients.
Geoff has also been very involved in advising our tribal clients on a broad range of matters related to the implementation of the provisions of the reauthorized Indian Health Care Improvement Act (IHCIA) enacted as part of the Patient Protection and Affordable Care Act (ACA). In 2012 he served as lead counsel for the National Indian Health Board (NIHB) and close to 450 tribes that joined the NIHB in an amicus brief filed in the United States Supreme Court in support of the U.S. government's position that the ACA, and by extension the reauthorized IHCIA provisions in the ACA, was lawfully enacted. National Federation of Independent Business, et al. v. Sebelius, et al., 132 S.Ct. 2566 (2012).
Over the years, Geoff has also worked with a number of our tribal clients to interpret and revise constitutions, bylaws and ordinances. In addition, he has significant experience assisting our tribal clients with acquiring and placing land into trust, and was involved in the first-ever transfer of land to a tribe under the ISDEAA and the Base Realignment and Closure Act.
In 1997, Geoff was adjunct professor of law at Northwestern School of Law, Lewis & Clark College, where he co-taught a federal Indian law course. From 2000-2001, he was an instructor in the Department of Health and Human Services Executive Leadership Development Program, where he taught a negotiation-skills course. He has also written a number of articles on Indian law issues, including: Geoffrey D. Strommer & Craig Jacobson, Indian Tribes and the Base Realignment and Closure Act: Recommendations for Future Trust Land Acquisitions, 75 North Dakota Law Review 509 (1999); Geoffrey D. Strommer & Stephen D. Osborne, "Indian Country" and the Nature and Scope of Tribal Self-Government in Alaska, 22 Alaska Law Review 1 (June 2005); Geoffrey D. Strommer & Stephen D. Osborne, The History, Status, and Future of Tribal Self-Governance Under the Indian Self-Determination and Education Assistance Act, 39 American Indian Law Review 1-75 (2015); and Geoffrey D. Strommer, Stephen D. Osborne, & Craig A. Jacobson, Placing Land Into Trust in Alaska: Issues and Opportunities, forthcoming in the American Indian Law Journal (2015).
Geoff is a veteran and served an active tour of duty in the United States Marine Corps. He grew up in Geneva, Switzerland, and enjoys traveling the world with his family. He is an avid mountain climber and has climbed a number of peaks in the U.S. and abroad.
Professional Organizations
Chairman, Executive Committee, Oregon State Bar Indian Law Section (1999)
The Federal Bar Association
The American Bar Association
Vice Chair, Native American Concerns Committee, ABA Section of IR&R (2013-2014)
Education
Georgetown University Law Center, J.D., 1990
University of California, Berkeley, B.A. (with distinction), 1986
Solano Community College, A.A. (with honors), 1984
Bar Admissions
Alaska Bar Association
Arizona State Bar
Oregon State Bar
Washington State Bar Association
U.S. Supreme Court
U.S. Court of Federal Claims
U.S. Court of Appeals for the District of Columbia Circuit
U.S. Court of Appeals for the Federal Circuit
U.S. Court of Appeals, 9th, 10th and 11th Circuits
U.S. District Court for the Districts of Oregon, Arizona and Alaska
Hopi Tribal Court Bar
Practice Concentration:
Tribal Affairs
Self-Determination & Self-Governance
Programs & Services
Economic Development
Alaska Native Issues
Natural Resources
Tribal Counseling & Advocacy