Professional Profile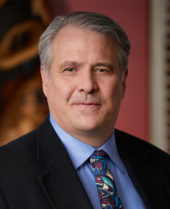 Craig A. Jacobson
Partner
Craig Jacobson joined Hobbs Straus as an associate in 1998, and has extensive experience in the areas of environmental and natural resources law and real estate law. Craig began to focus on natural resources and environmental law while in law school, believing that these areas are vital to the well-being of tribes as sustainability has become a central value for many Native communities.
While in law school, Craig began working in Indian country with the Shoalwater Bay Indian Tribe in Washington State. He assisted the Tribe in the creation and management of an environmental department, development of an on-reservation health clinic, and negotiation of Title I and Title IV agreements with the federal government. This experience allowed him to witness and participate in community development first hand, and become involved with the issues of healthcare improvement, employment, the protection of natural and cultural resources, and economic development.
Prior to joining Hobbs Straus, Craig was a sole practitioner focusing on environmental issues in Indian country, Title IV Self-governance (both BIA and non-BIA), and Indian Health Service related issues. He has experience in complex environmental issues, state and federal environmental regulatory analysis, as well as the development of tribal environmental codes and regulatory schemes.
Craig also has a wide range of experience in BIA self-governance, cultural resources issues, real estate transactions, and housing issues. He has written a law review article, "Indian Tribes and the Base Re-alignment and Closure Act: Recommendations for Future Trust Land Acquisitions," co-authored with Geoffrey D. Strommer, in the North Dakota Law Review, September 1999.
Craig is a volunteer board member for the Opal Creek Ancient Forest Center in Oregon. When not at work, he enjoys sports with his family and renovating their one hundred year old house.
Professional Organizations
Oregon Department of Environmental Quality's Advisory Committee for the Environmental Partnerships for Oregon Communities Program
Oregon State Bar Association, Environmental Law Section and Indian and Environmental Law Section
Washington State Bar Association, Environmental Law Section and Indian and Environmental Law Section
Education
Northwestern School of Lewis & Clark College, J.D., Certificate in Environmental and Natural Resources Law
University of Oregon, Robert D. Clark Honors College, B.A., cum laude, Phi Beta Kappa, 1991
Bar Admissions
Oregon State Bar
Washington State Bar Asssociation
Alaska Bar Association
Practice Concentration: