Professional Profile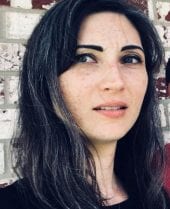 Stephanie "Violet" Rush joined Hobbs Straus as an associate in February 2020. She is a Cherokee Nation citizen (Old Settler) and a Mvskoke (Creek) descendant (McIntosh). She is from Sapulpa, Oklahoma, a town rich with Euchee and Mvskoke (Creek) culture, language, and history. She earned her J.D. from the University of Tulsa College of Law in May 2019, where she graduated with Highest Honors and was one of two students in her graduating class to receive a certificate in Native American law. Violet was the Executive Editor of the Tulsa Law Review, Vice President of her school's Native American Law Student Association, and co-founder of her school's If/When/How chapter.
During law school, Violet interned at the ACLU's Program on Freedom of Religion and Belief, the Tulsa County Public Defender's Office—Child Advocacy Division, and If/When/How. As a law student, she managed a legal research team whose work was incorporated into a provision Oklahoma's Anti-Shackling Bill, which was signed into law in November 2018. She also conducted a toy and clothing drive benefitting Cherokee Nation's Indian Child Welfare Services.
Violet's experience and research in Indian law and Indigenous rights includes: religious freedom, Indigenous justice systems, tribal government, ICWA, Native American natural resources law, federal road development on tribal lands, and the legal history of Cherokee Nation land cessions. In 2019, she co-authored two short articles for the American Psychological Association's Monitor on Psychology. One discusses the need to study Indigenous experiences in U.S. court systems. The other addresses the need to assess the psychological ramifications of reservation disestablishment. Violet's scholarship on religious freedom and reproductive healthcare was published in May 2019 in the Tulsa Law Review. She is admitted to practice in Oklahoma and her admission to the D.C. Bar is pending.
Before entering law school, Violet built capacity for several Oklahoma non-profits, including Community Action Project of Tulsa County, a large community action agency that operates several Head Start schools. Violet earned her B.A. in Anthropology with a specialization in Native North American languages from the University of Texas at Austin in 2009. Post-graduation, she was an AmeriCorps VISTA with Southwest Youth Services, a Native-operated non-profit, in Albuquerque, New Mexico. As a VISTA, she coordinated the construction of an on-campus food and clothing bank for the Native American Community Academy and helped build Native youth wellness programs in Pueblo communities.
Violet enjoys reviewing historical maps and newspapers, driving on country roads, going to any nearby lake or river, and working on independent writing projects.
Selected Publications
Kathryn A. LaFortune & Violet S. Rush, A legal fight over tribal rights, MONITOR ON PSYCHOL., Nov. 2019, at 37.
Kathryn A. LaFortune & Violet S. Rush, A Call to Study Native Americans' Experiences in Tribal and U.S. Courts, MONITOR ON PSYCHOL., Apr. 2019, at 29.
Violet S. Rush, Comment, Religious Freedom and Self-Induced Abortion, 54 TULSA L. REV 491 (2019).
Professional Organizations
Federal Bar Association
Native American Bar Association-DC
Oklahoma Bar Association
Education
University of Tulsa College of Law, J.D. 2019
University of Texas at Austin, B.A. 2009
Bar Admissions
Oklahoma