Professional Profile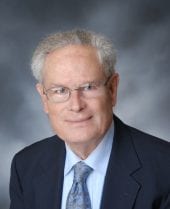 Duke McCloud spent 30 years in government service before joining Hobbs Straus as of counsel in the health practice group in 2005. Chief counsel to the Indian Health Service (IHS), his long and distinguished career began in 1976, when he joined the Office of the General Counsel in the U.S. Department of Health and Human Services. Prior to that, Duke served as law clerk to Judge Harry A. Blackman, then on the U.S. Court of Appeals for the Eighth Circuit. In addition to gaining proficiency in federal Indian law during his government tenure, Duke developed specialties in federal administrative, appropriations, and contract law. This experience provided a unique understanding of the complexity involved when tribes and tribal organizations administer diverse federal and state programs under tribal control.
Duke's accomplishments include representing the IHS in a series of cases that culminated in the recognition of Indian rights to receive benefits under state and local health programs. He represented the IHS in the settlement of lawsuits resulting in the reversal of termination for a number of Indians in California. He brought successful federal action against a hospital association in North Dakota for price-fixing under antitrust laws. In the administrative law area, Duke was the chief agency counsel in Lincoln v. Vigil, 508 U.S. 182 (1993), a leading Supreme Court case involving judicial review ability of federal-agency actions and the application of rule-making procedures under the Administrative Procedure Act.
Duke was a principal negotiator of the regulations governing tribal contracting under the Indian Self-Determination and Education Assistance Act (ISDEAA). He helped successfully negotiate the Self-Governance Amendments (Title V) to the ISDEAA and the federal regulations implementing those amendments. He participated in the negotiation of numerous contracts, compacts, and funding agreements under the ISDEAA as well as in the adjudication of many appeals and disputes.
An avid traveler, in 2004, Duke and his wife took a year-long trip around the world, hiking mountains, exploring art, and getting to know the people and cultures of New Zealand, Nepal, China, and Russia, to name a few. Back home, Duke and his wife enjoy relaxing at their rural weekend home, and visiting their grown sons in New York City.
Education
University of California, Berkeley, J.D.
Stanford University, B.A., 1964
Bar Admissions
California
Minnesota
District of Columbia
Practice Concentration: